| | |
| --- | --- |
| Posted by wayne on May 25, 2016 at 9:25 AM | |
So the weekend is here and you'd like to shampoo your vehicle's interior. There are a few portable options available to you.
1. Upright Systems: If you have an upright shampoo system with a hose attachment and are willing to struggle with the lack of flexibility then go for it. You would be advised to learn about the do's and Don'ts for your particular cleaner. Repairs can be costly. Bissell proheat and proheat 2x require Bissell solution only. The pumps are very sensitive. I recommend that you try not to use dish washing detergent unless you have to. I know of a few homemade solutions recipes out there, but I'd wait until the warranty is expired before taking that risk. Bissell heater and pump will start giving you problem when you use high soap solutions. Hoover is a bit more forgiving on the type off solution, but keep in mind that the soapy solutions will develop a gummy residue that can clog the jets. So rinse after every use. Kirby also has a portable shampooer, it requires an extra step or two and more elbow grease, but if you you're interior to dry quickly than it's a good choice.
2. Portable Systems: Bissell has a range of portable shampooers available. The little green proheat, spot clean and some just for pet owners. The warning is the same for the solution. Make sure you vacuum thoroughly and remove pebbles and debris before shampooing. Rug Doctor also sell a portable shampooer it's a little more expensive than the Bissell.
3. Local car wash: I'm not the biggest fan of the Local car wash, but if you must; have fun. You may have to use the vacuum hose to remove the solution. I believe the majority of the stations only allow you apply the cleaning foam without an extractor.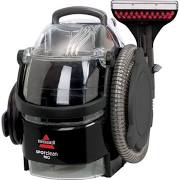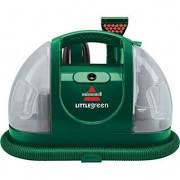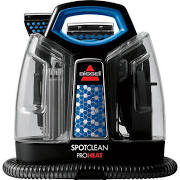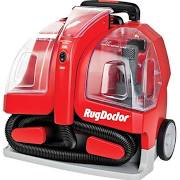 If you'd like the spotclean check out our products page and order yours. You can also stop by our shop
Categories: Cleaning Tips